Model Navigator
Model navigator is a useful tool that allows you to navigate through complex models, get overview of all related elements for the given element.
Access Model Navigator
You can access the Model Navigator tool from:
Ribbon / View tab / Model group / Model Navigator
Classic Menu / View / Model Navigator
The navigation starts from the element selected in the diagram editor. If there is no element selected, the navigation starts from the first element in the project.
Model Navigator Window
The major part of the Model Navigator window covers the diagram navigation view. It contains the elements arranged in the navigation layout - related source elements are displayed on the left, the focused element is placed in the middle and the related target elements are displayed on the right.
There is a toolbar with a few buttons in the top part of the window. It offers the following action buttons:
Previous Element - navigates to the previous element in the list of project elements. (The element does not need to be displayed in the current view).
Next Element - navigates to the next element in the list of project elements.
Add Diagram to Project - creates a diagram with elements in the exact same layout as is the current view of the Model Navigator.
The toolbar ends with a caption that shows the name of the focused (central) element in the current view.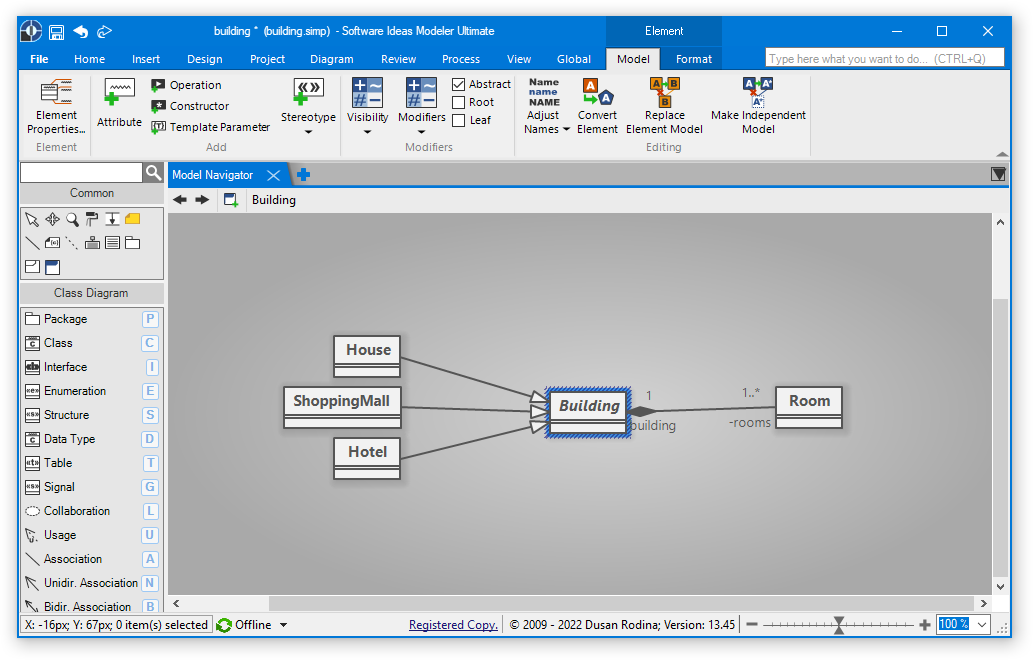 Model Navigator
How to Navigate Model
If you click on any element in the Model Navigator pane, the element will become focused. The Model Navigator shows it in the middle with the source (input) elements on the left and the target (output) elements on the right. This way you can navigate through the entire project unless there is a connection between the given elements.
You can also navigate the model using the arrow keys on your keyboard. Press Left to go to the left column and Right to go to the right column. Then you can select an element from the column using the Up/Down keys. Then you can press Enter to focus the view on the selected element.
Edit Navigated Elements
You can also edit the navigated elements. If you select the element in the view, you can use the context ribbon tab to edit element properties.