BPMN Tool - Process Modeling and Diagramming
Software Ideas Modeler is a BPMN tool that supports all 3 diagram types of BPMN 2.0. Business Process Model and Notation is a graphical representation for specifying business processes in a business process model. This notation is similar to flowcharts and activity diagrams.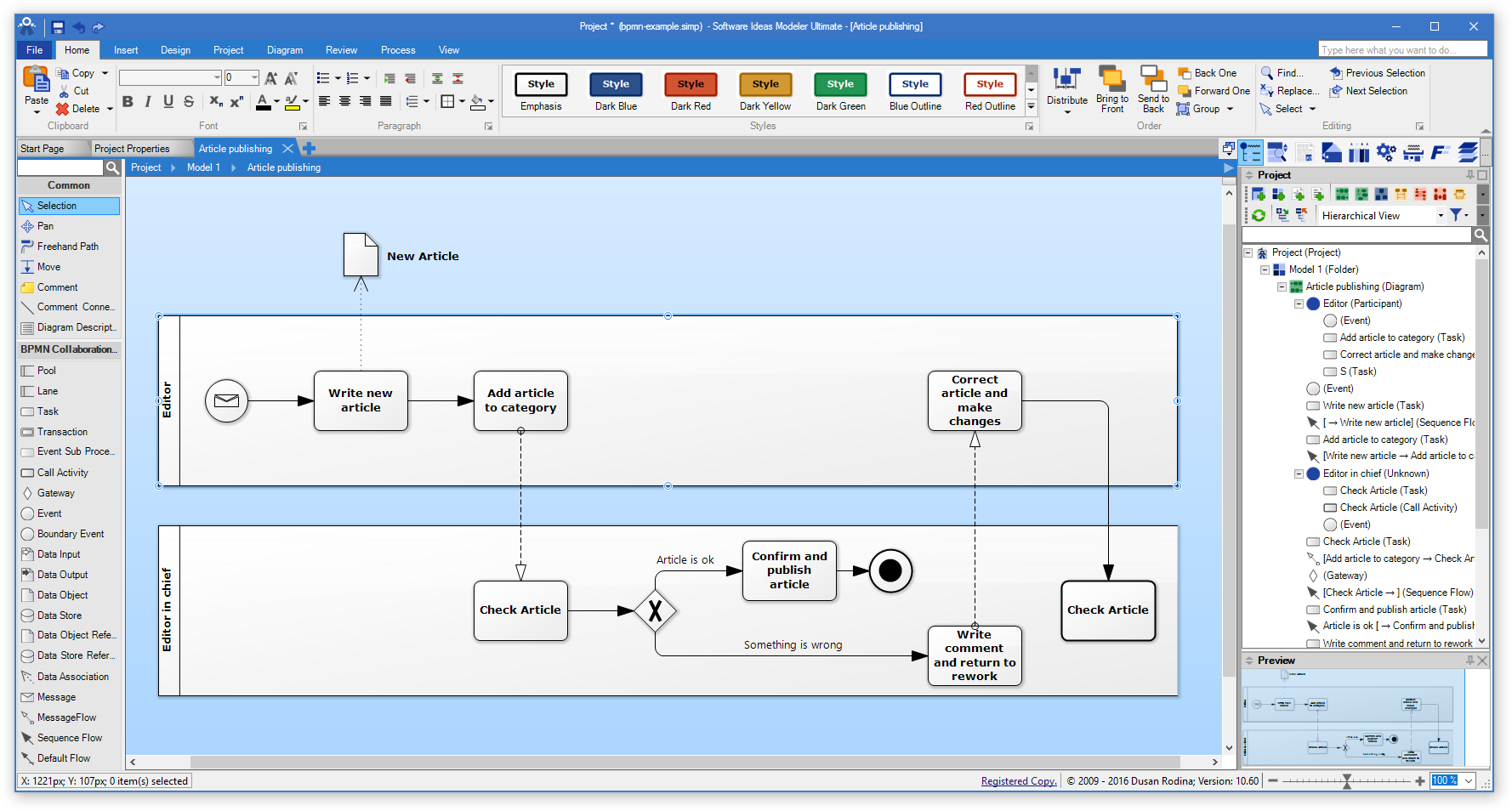 What is BPMN?
BPMN stands for Business Process Model and Notation. It is a graphical modeling notation for business process management, similar to flowcharts and UML activity diagrams. It was designed to be comprehensible for technical as well as business users. Typical business stakeholders who use BPMN are business analysts, business managers, and developers.
BPMN Software for Fast & Easy Diagramming
Diagram drawing is effortless with Software Ideas Modeler. Your diagram creativity is not restricted in any way. The BPMN editor offers you multiple options on how to design the flowcharts, and you may choose the one you prefer. The software includes various helpers, guides, and auto-alignment features, which help you produce professional and neat diagrams with almost no effort.
BPMN Modeler with Style
This BPMN software allows you to choose from predefined styles and style sets and make your diagrams full of life and colors. Do you need a special style for some elements? Software Ideas Modeler allows you to make your own style, set your own color gradient, change the width of borders, turn the shadow on and off, and adjust it - you get countless combinations.
Supported BPMN Diagrams
Our BPMN 2 diagram editor supports these types of BPMN diagrams:
Conversation diagram
Collaboration diagram
Choreography diagram
Supported BPMN Elements
Software Ideas Modeler supports the following BPMN elements:
Association
Boundary Event
Call Activity
Call Conversation
Call Choreography
Conditional Flow
Conversation
Conversation Link
Data Association
Data Input
Data Object
Data Object Reference
Data Output
Data State
Data Store
Data Store Reference
Default Flow
Error
Escalation
Event
Gateway
Group
Choreography Sub Process
Choreography Task
Message
Message Connector
Message Flow
Operation
Participant
Pool
Resource
Sequence Flow
Signal
Sub Conversation
Sub Process
Task
Text Annotation
Transition
Import from BPMN XML
If you have created BPMN models in other BPMN tools, you can continue to work on them using Software Ideas Modeler. You can import your existing models from the standard BPMN XML format.
Export to BPMN XML
The BPMN models created using Software Ideas Modeler can be shared very easily. Our BPMN modeler allows you to export your BPMN models and diagrams to standard BPMN XML format. You can also share the Software Ideas Modeler's native XML format - as we offer the free Viewer app.
Export to Various Image Formats
If you do not want to export the BPMN diagrams to the standard BPMN format, you got other options. You can convert your diagram to a variety of common image formats and use them in the text document or easily attach them to your email message. Our BPMN diagram software supports many graphical formats - various bitmap and vector formats are included (PNG, JPG, SVG, GIF, WMF, EMF, BMP). You may export an active BPMN diagram, a part of the diagram, or multiple diagrams at once using a special batch export feature.
BPMN Diagram Editor - Supported Elements
BPMN Tasks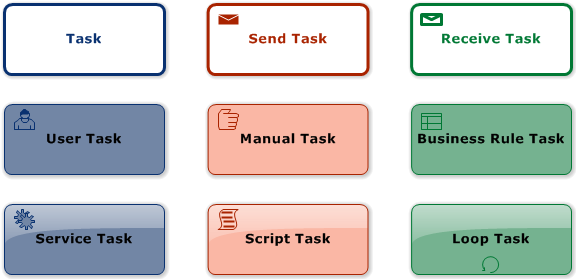 BPMN Tasks - BPMN Tasks
BPMN Events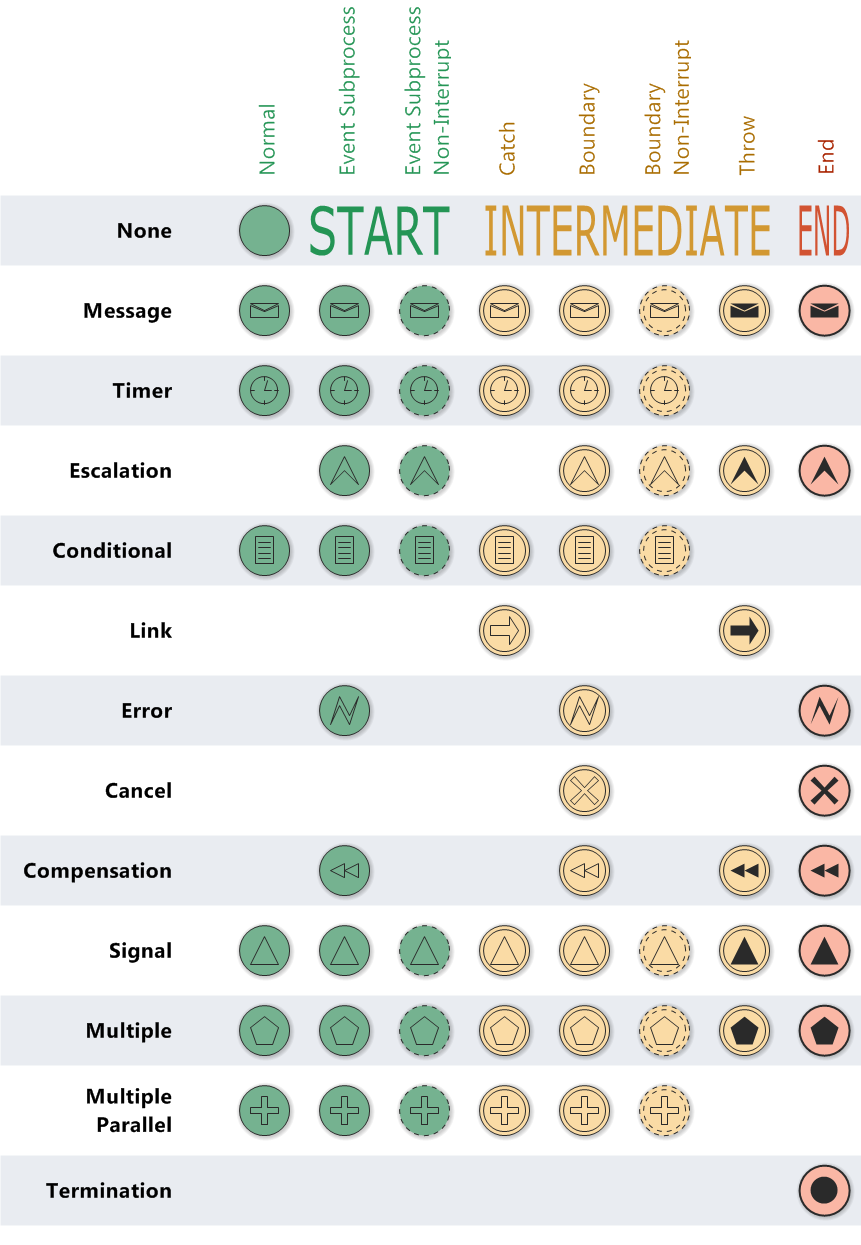 BPMN Events - BPMN Events
BPMN Gateways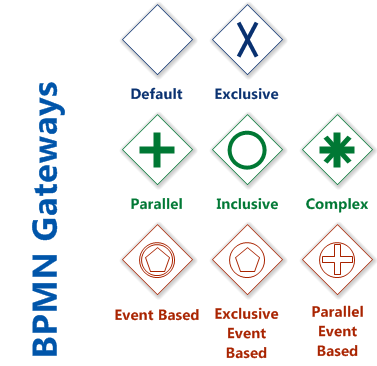 BPMN Gateways - BPMN Gateways