Highlights of new version
Rounded rectangular lines
New version of Software Ideas Modeler offers a new kind of relationship line - rounded rectangular. It is similar to rectangular style - the difference is that the corners are rounded.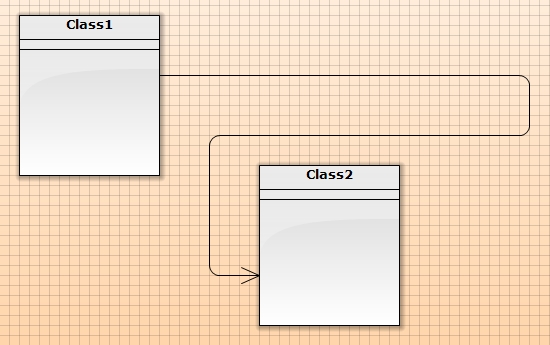 Relationship selection
There are many improvements of relationship selection. The bounds grips were removed. New grips for points of relationship were added. The selection of thick line is better visible.

New features and improvements
Added new rounded rectangular style for relationships
Improved grips for relationship [RQ#247]

Removed bounds grips
Added point grips

Added Mongolian translation (thanks to М. Мөнхнаран and С. Бадрал)
Added Block tool for SysML Package diagram [RQ#240]
Added Class tool for UML Package diagram
Enabled adding of new lines in description field of Diagram Description element [RQ#245]
Disabled confirmation of Diagram Properties dialog on Enter when description field focused
Improved rendering of selection for thick relationship lines
Improved undo behavior
Fixed bugs
Fixed default names for Signal Send and Signal Receipt elements [RQ#246]
Fixed application crash when try to copy empty selection from grid [RQ#234]
Fixed application crash when try to paste copied elements to model or project instead of to diagram [RQ#235]
Fixed rare application crash when drawing sequence action [RQ#236]
Fixed application crash when try to insert wrong file as license key [RQ#239]
Fixed application crash when setting glow size smaller than 2
Fixed application crash when you try to insert new line before the first character when editing comment in diagram [RQ#242]
Fixed incorrect bounds of selection for elements after copy & paste
Fixed adjusting of positions of relationship ends
Downloads