E-shop - Online Shopping (UML Communication Diagram)
An example of a UML communication diagram for online shopping in an e-shop. It shows the interactions between the e-shop modules in the form of numbered messages that they exchange with each other.
UML Communication Diagram for Online Shopping in E-shop
The diagram depicts online shopping activities of a shopper as interactions with the modeled system and the following reactions of particular system modules and parts.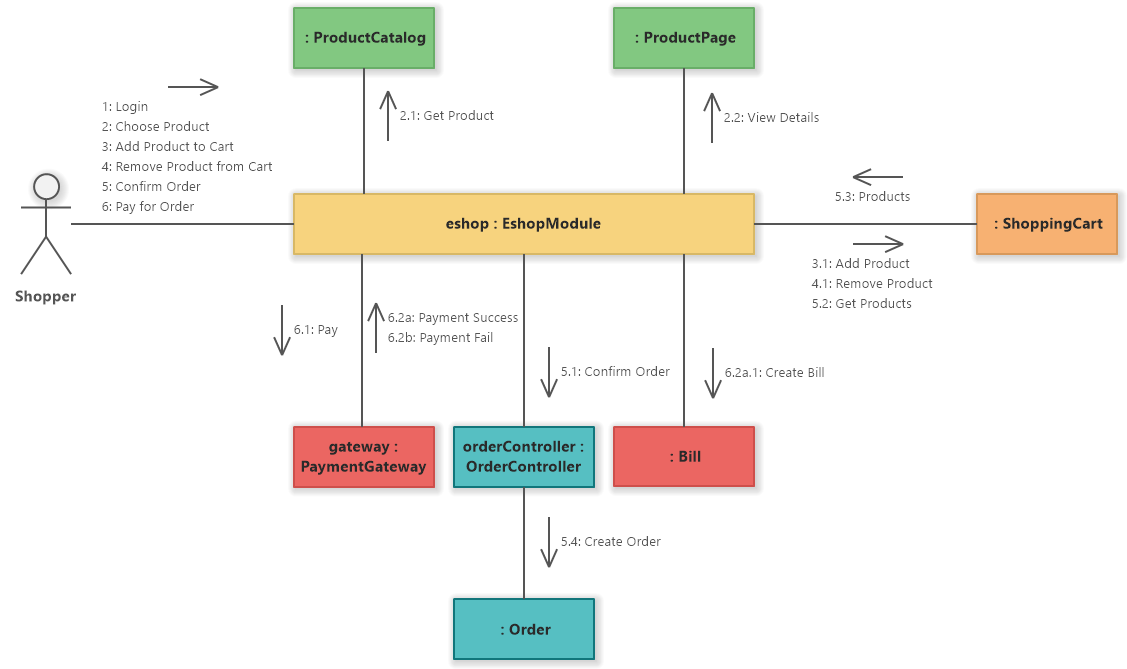 Eshop - Online Shopping (UML Communication Diagram)
Communication Lifelines
Lifelines represent modules and system parts needed in the online shopping process within modeled example e-shop solution:
Shopper
Eshop Module
Product Catalog
Product Page
Shopping Cart
Payment Gateway
Order Controller
Order
Bill
Messages Between Lifelines
There are these interactions between system modules represented by lifelines:
Login
Choose Product
Add Product to Cart
Remove Product from Cart
Confirm Order (by Shopper)

Confirm Order (by Order Controller)
Get Products
Products
Create Order

Pay for Order

Pay
Payment Success / Fail
Create Bill
Download Online Shopping Communication Diagram
E-shop - Online Shopping (UML Communication Diagram)
Comments