Burger Restaurant (BPMN Diagram)
A BPMN diagram of a burger restaurant process. It depicts how the restaurant handles a customer's order.
BPMN Diagram for Burger Restaurant
This BPMN diagram example shows the process of order processing in a burger restaurant. A customer can choose and order a burger by their preferences. The restaurant staff processes the order - accept a payment, grill the meat, assemble the burger, and deliver the final product - burger to the customer.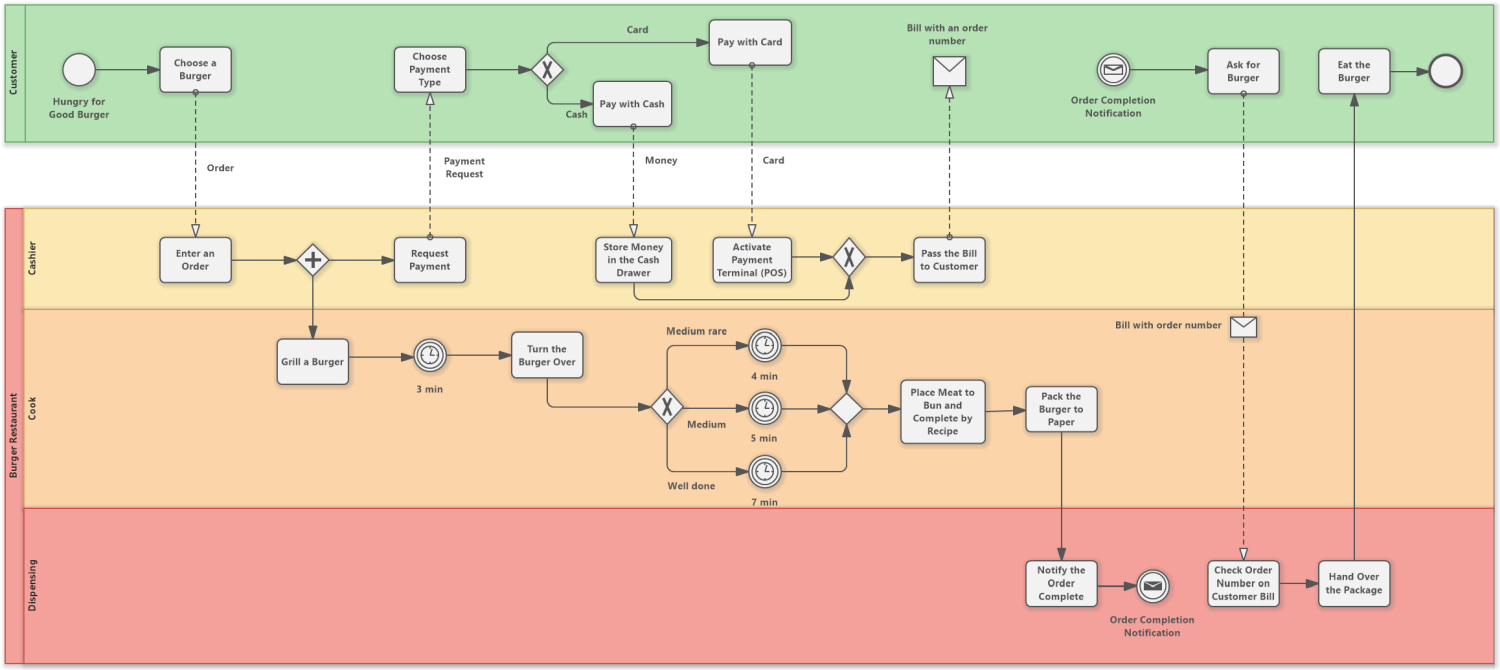 Burger Restaurant (BPMN Diagram)
Burger Restaurant Process Participants
The diagram shows these participants in the process:
Customer
Burger Restaurant
Burger Restaurant Process
The order process in the burger restaurant consists of the following steps:
Hungry for Good Burger
Choose a Burger
Enter an Order
Request Payment
Choose Payment Type
Pay with Card
Pay with Cash
Store Money in the Cash Drawer
Activate Payment Terminal (POS)
Pass the Bill to Customer
Bill with an order number (Message)
Grill a Burger
Turn the Burger Over
Place Meat to Bun and Complete by Recipe
Pack the Burger to Paper
Notify the Order Complete
Order Completion Notification (Event)
Ask for Burger
Check Order Number on Customer Bill
Hand Over the Package
Eat the Burger
Download BPMN Diagram for Burger Restaurant
Burger Restaurant (BPMN Diagram)
Comments