Related Model Elements
Software Ideas Modeler maintains logical relationships between elements in the data model. Thanks to a well-defined model, the navigation to the related items (even in another diagram) is quick and straightforward.
Related Elements Tab (Properties Dialog)
The Properties dialog offers a tab called Related Elements, which shows all the related elements of the edited element. The relationships are grouped by their type and meaning. This way, you can see which elements are super- and subclasses of the edited element or which other elements it aggregates.
To show the related elements, right-click on a desired element and choose Properties. In the displayed Properties dialog, choose Related Elements tab.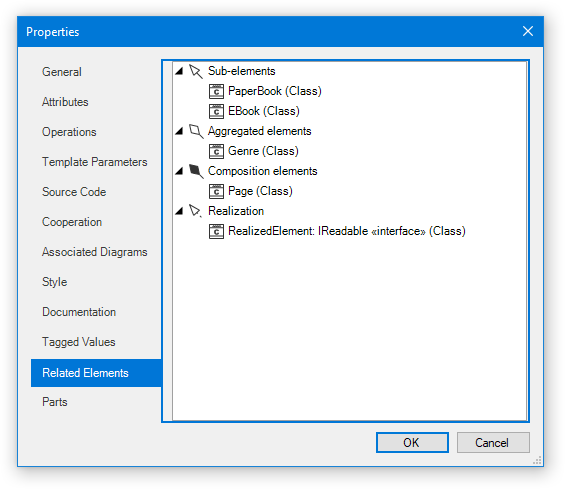 Related Elements tab (in Properties dialog)
Model Navigation (Using Context Menu)
You can navigate to related elements of an element in no time. Click using the right mouse button on the desired element and open the 'Navigate to' submenu. It lists all related elements. You can choose the one you want to navigate. It is especially useful in a larger diagram or in case the element is placed on another diagram in the project.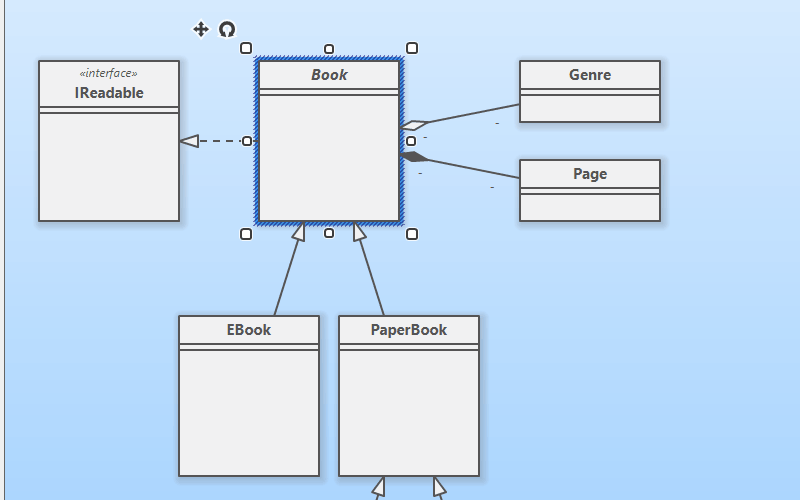 Navigation to related elements using the context menu
Add Related Element from Model to Diagram
You can add a related element that is defined in the model to another diagram. You have to options how to insert the new instance of the element:
Drag&drop with right mouse button
Context menu 'Add Related Elements'
Add Existing Relationship (Drag & Drop)
Press and hold the right mouse button over an element and drag to the desired position where you want to drop a related element. After releasing the mouse button, the context menu with several options shows. Open the Add Existing Relationship submenu and choose a desired related element you want to insert into the diagram.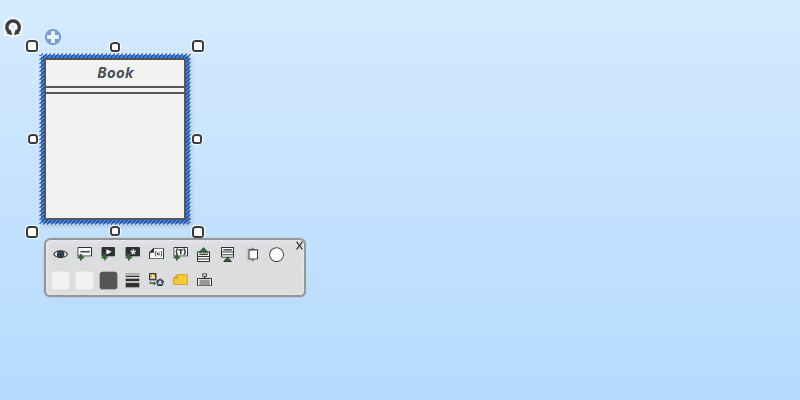 Adding a related element using the right-button drag and drop
Add Related Elements (Context Menu)
If you do not need to specify the position of the inserted related element exactly, just right-click on the desired element and choose a related element from the Add Related Elements submenu. The new instance will be placed in a free position in the current diagram near the selected element.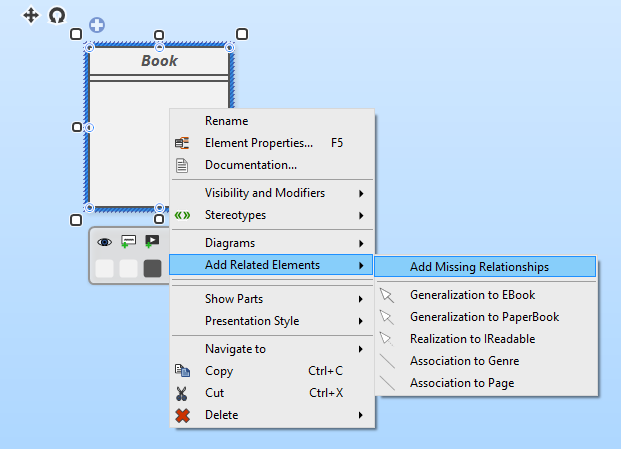 Add related elements using the context menu
Model Navigator
There is another way how to navigate through the complex models quickly. Software Ideas Modeler offers a specialized tool called Model Navigator, which helps you to browse complicated projects most effectively.