Useful improvements in version 7.40
News|
9 June 2014
|
Dusan Rodina - softwareideas.net
Innovation continues with the new version 7.40. It brings more than dozen improvements. You can copy elements faster. Now it is possible to replace the model of an element in a diagram using the new tool.
Highlights
View element references
Software Ideas Modeler shows an icon with plus for elements which are used multiple times (and shared their model). This multiple usage icon is a clickable button now. If you click on it 'Element References' window will be shown. It contains a list with all occurrences of an element (with coordinates of its position) grouped by parent diagrams. If you double click on an item in the list you will be navigated to the diagram with this item.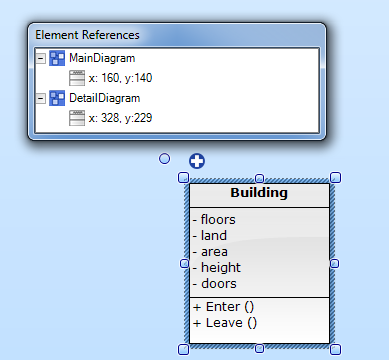 View associated diagrams
An icon with arrow is displayed for elements which have associated diagrams. This icon is also clickable now. If you click on it 'Associated Diagrams' window will be shown. It contains thumbnails of all diagrams associated to the element. If you double click on the diagram thumbnail, you will be navigated to it.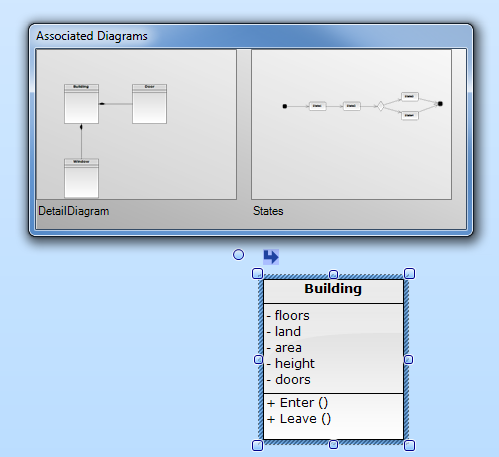 Faster copying
If you want to make a copy of an element. Just drag it with right mouse button, press CTRL (for independent copy) or SHIFT (for shared model copy) and drop it. A copy of the dragged element will be added to the diagram on dropped position.

Grid menu
You can set grid spacing much faster now. If you want to set spacing to 10, 15, 20 or 25, you don't need to show Options dialog (Tools/Options), just click on small arrow on the right of grid icon in standard bar and choose the spacing in displayed menu.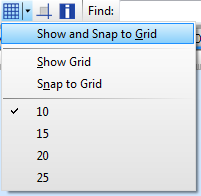 Editing object classifier
A classifier of an object can be set without the Properties dialog. Just double-click on the object name, type colon and choose classifier from the displayed drop down list.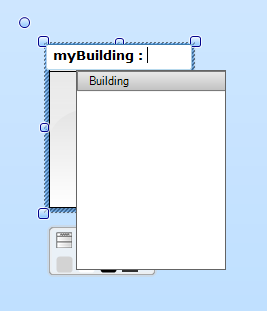 Sequence message selection
Version 7.40 improves also selection and sizing grips of sequence message. Unnecessary grips were removed.
New features and improvements
Added floating window with all references of an element accessible using Multiple Usage icon [RQ#316]
Added floating window with all associated diagrams for an element accessible using Associated Diagrams icon [RQ#123]
Drag & drop using right mouse button and CTRL pressed creates independent copy of dragged element
Drag & drop using right mouse button and SHIFT pressed creates copy of dragged element with shared model
Added Delete message to toolbox for UML Sequence diagram
Added drop down menu to Grid button in standard bar, which allows you to change grid settings
Added Duplicate action to context menu in project tree
Added Replace Element Model to Element menu
Improved selection grips of sequence message
Showing stereotypes and tagged values for sequence messages
Classifier of object (UML Object diagram) can be edited inline
Added auto complete for classifiers of objects (UML Object diagram)
Renamed sequence diagram tools
Fixed bug
Fixed renaming of lifeline using double click on its name
Downloads
Comments