Useful Features of Diagram Editor
The diagram editor offers useful features that can help you during the diagram creation, save you mouse clicks and allows you to create the diagrams faster.
In the diagram editor, you can drag an element to move it to another position. If you hold the right mouse button during the element dragging, you can get access to other useful features from the context menu. The context menu is displayed in the diagram editor after dropping the element.
Incorporate an Element to an Existing Flow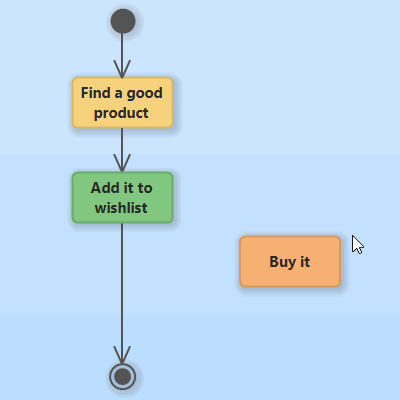 Incorporate an element to an existing flow
If you need to place an element to an existing flow so that it is connected to the preceding and the following element, the usual way would include these steps: connecting the relationship to the element, moving the element, and creating a new relationship from the element to the following element. However, there is an even easier solution - right-drag the element and drop it over the desired relationship and choose the Incorporate to Flow item from the context menu.
Swap an Element with Another Element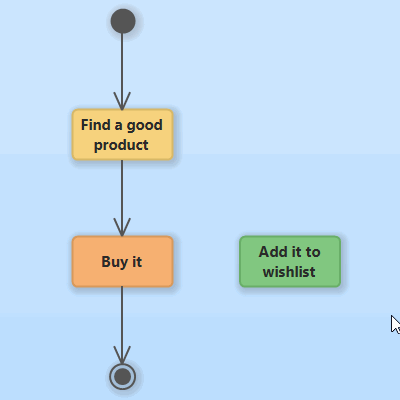 Swap elements
Another tip that will help you make your diagrams faster and easier is the swap feature. It will save you other mouse clicks and moves. Just right-drag the element you want to swap and drop it over another element that should be part of the swapping. Then choose Swap Elements from the context menu. One element will get the position and size of the other one, and the connectors and relationships will be swapped as well.
Apply the Size of an Element to Another Element
Make the same size by another element
Sometimes, you may want to set the size of an element to another element in the diagram. You have several options on how to do it, but the faster one is to right-drag the "template" element, drop it over another element, and choose Make Same / Make Same Size (or Make Same Width/Height). The target element will be resized by the dragged ("template") element.