Flowchart Maker - Easy-to-Use Flowchart Software
Creating flowcharts has never been easier! Whether you're a software developer, project manager, or business owner, Software Ideas Modeler is the perfect tool for creating clear and concise flowcharts that can help you to better visualize your work processes and improve communication with your team.
With a wide range of flowchart symbols and a user-friendly interface, you'll be able to create professional-looking flowcharts in no time, even if you don't have any prior experience in flowchart creation.
Draw flowcharts with our easy-to-use flowchart software. It supports all standard flowchart symbols that can help you express various concepts in your workflows and modeled processes. Flowcharts are a great communication and visualization tool since they are easy-to-understand also for non-technical people. The Standard edition of the software (that supports flowchart creation) is free for non-commercial use.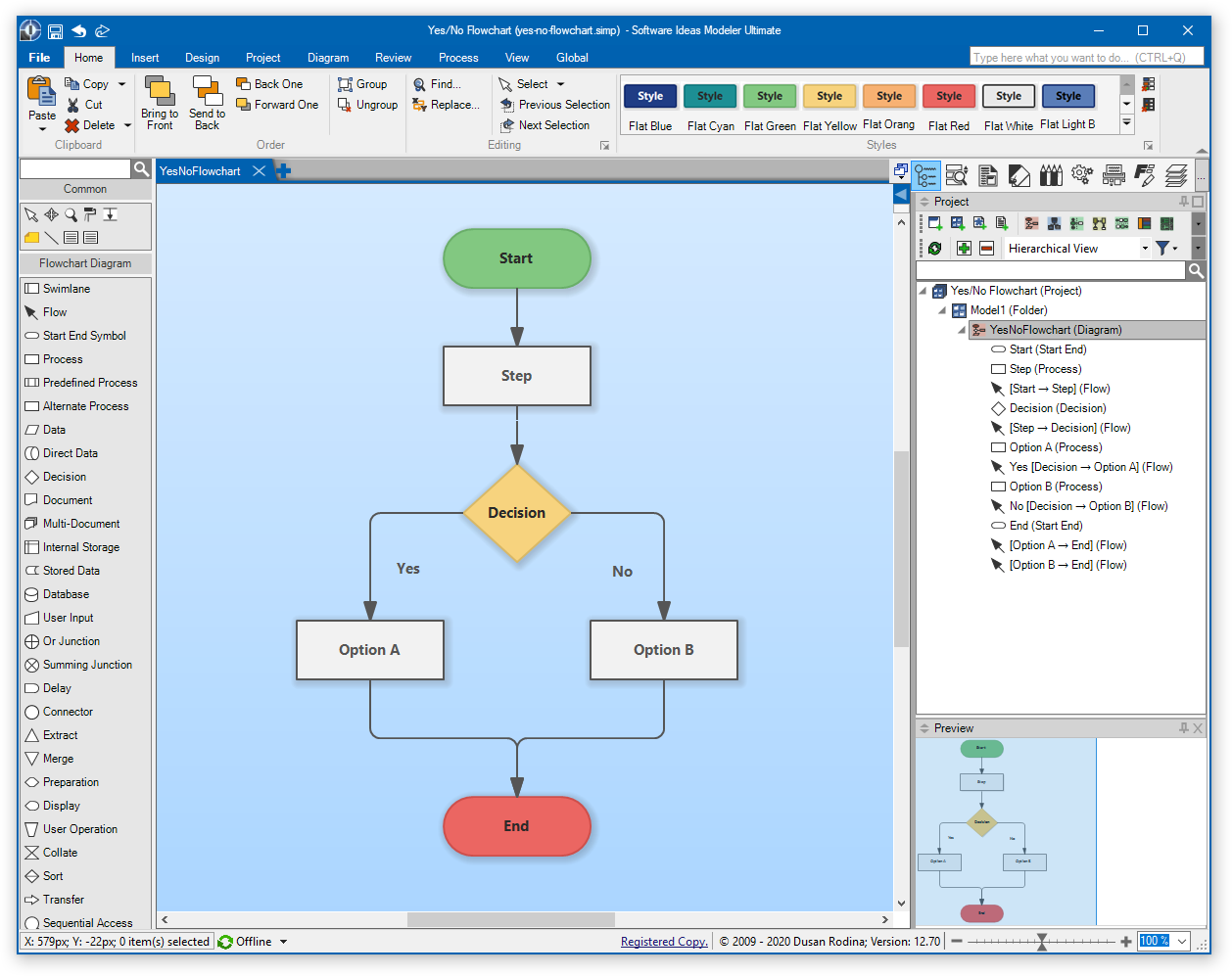 Flowchart Editor - Flowchart Software Main Window
Useful Features
All Flowchart Symbols
Choose from a library of flowchart symbols to quickly and easily create flowcharts that are clear and easy to understand.
User-Friendly Interface
Our flowchart maker has been designed to be simple and easy to use, so you can focus on creating your flowcharts and not on navigating complicated software.
Customizable Styles
Customize your flowcharts to match your personal style and organizational branding. Choose from a range of pre-designed styles or create your own to make your flowcharts stand out.
Collaboration Tools
Collaborate with your team and colleagues by sharing flowcharts, making comments, and tracking changes, all within the software.
Export Options
Export your flowcharts in a variety of file formats, including PDF, SVG, and PNG, for easy sharing and presentation.
Multi-Diagram Projects
The ability to create multiple diagrams within a single project enables you to easily manage and organize your flowcharts. You can switch between diagrams with just a few clicks, making it simple to work on different parts of your project at the same time.
Element Reusing
With Software Ideas Modeler, you can save time and effort by reusing elements in your flowcharts. You can copy and paste elements between diagrams or even within the same diagram and preserve the linking to the same model, making it simple to maintain consistency across your flowcharts.
Element Documentation
To help you keep track of your work, Software Ideas Modeler allows you to add documentation to your elements. Whether it's a simple label, a detailed description, or a link to an external file, you can easily document your flowcharts and ensure that your work is well-organized and easy to understand.
Flowchart Diagram Software
If you are looking for software to draw flowcharts, you are at the correct address. Download Software Ideas Modeler for free and discover all its capabilities. It is not only a flowchart maker and diagramming software, but it also provides a rich modeling feature set. You can reuse the elements on various diagrams and flowcharts, and they will always stay in sync.
Supported Flowchart Symbols
Software Ideas Modeler supports all flowchart symbols. The toolbox provides these elements: Start/End Symbol, Flow, Process, Decision, Predefined Process, Alternate Process, Data, Direct Data, Document, Multi-Document, Internal Storage, Stored Data, Database, User Input, Or, Junction, Summing Junction, Delay, Connector, Extract, Merge, Preparation, Display, Collate, Sort, Off-Page Connector, Transfer and User Operation.
Download Flowchart Editor
Download our flowchart maker app for PC with the button below: