Flowchart Maker - Easy-to-Use Flowchart Software
Draw flowcharts with our easy-to-use flowchart software. It supports all flowchart symbols that can help you express various concepts in your workflows and modeled processes. Flowcharts are easy-to-understand also for non-technical people. You can learn to draw it very quickly, and our flowchart tool helps you to create professional-looking diagrams in no time. The Standard edition of the software (that supports flowchart creation) is free for non-commercial use.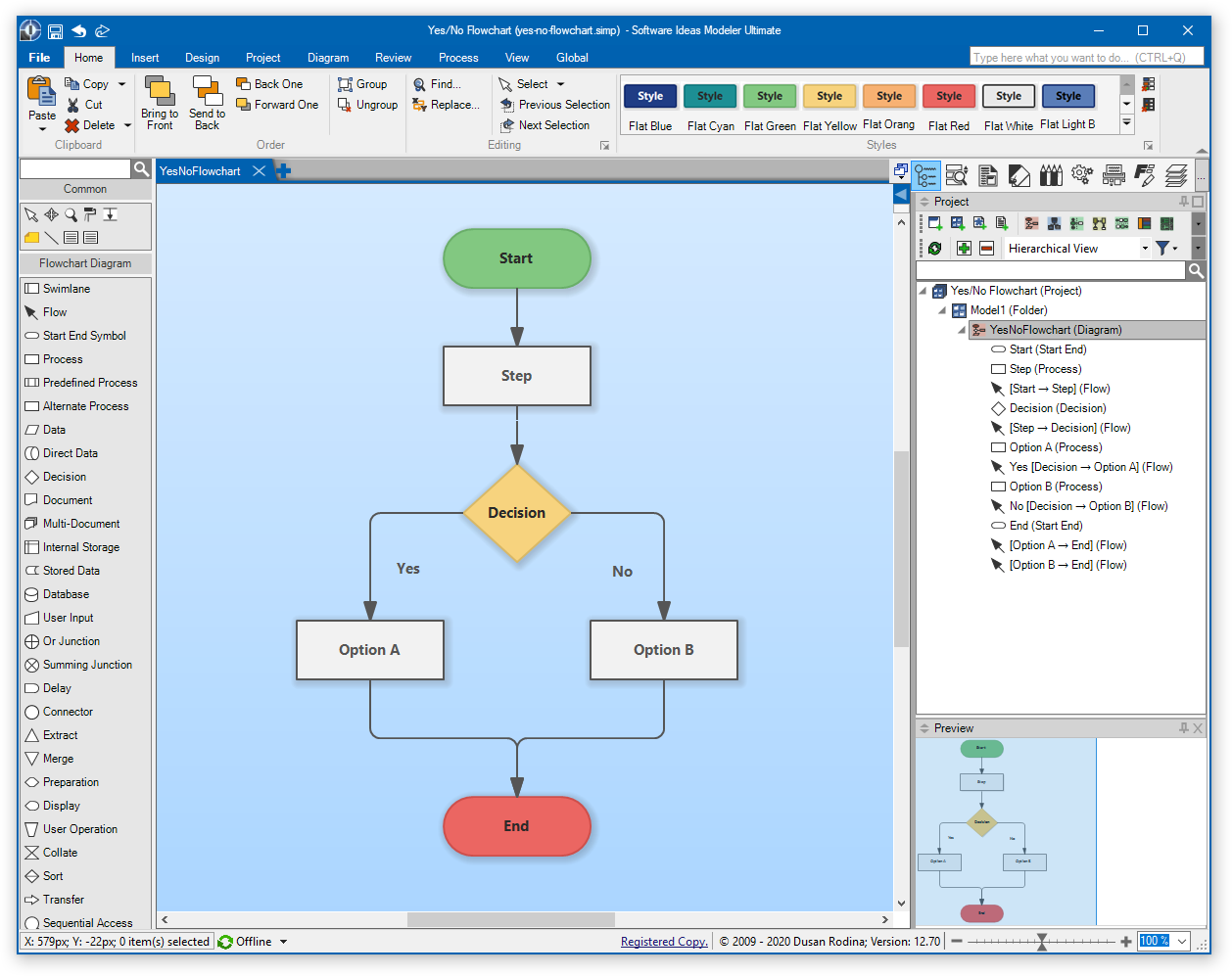 Flowchart Editor - Flowchart Software Main Window
Flowchart Diagram Software
If you are looking for software to draw flowcharts, you are at the correct address. Download Software Ideas Modeler for free and discover all its capabilities. It is not only a flowchart maker and diagramming software, but it also provides a rich modeling feature set. You can reuse the elements on various diagrams and flowcharts, and they will always stay in sync.
Supported Flowchart Symbols
Software Ideas Modeler supports all flowchart symbols. The toolbox provides these elements: Start/End Symbol, Flow, Process, Decision, Predefined Process, Alternate Process, Data, Direct Data, Document, Multi-Document, Internal Storage, Stored Data, Database, User Input, Or, Junction, Summing Junction, Delay, Connector, Extract, Merge, Preparation, Display, Collate, Sort, Off-Page Connector, Transfer and User Operation.
Useful Features
Complete flowchart symbol set
Easy styling with plenty of options
Multi-diagram projects
Element reusing
Rich arrangement and layout options
Auto layouts
Export to various image formats
Element documentation
Download Flowchart Editor
Download our flowchart maker app for PC with the button below: