Types of Diagrams and Charts
There are plenty of diagram types you can draw using Software Ideas Modeler. You can depict structures, behavior, processes, workflows, ideas, concepts, and data models with them.
Software Ideas Modeler supports many types of diagrams and charts. This list provides an overview of all supported diagrams, you can create using the diagramming tool.
BPMN, CMMN & DMN Diagrams
Case Management Model and Notation
Wireframing Diagram Types
Data Modeling Diagram Types
SysML Diagram Types
Activity diagram
Sequence diagram
State machine diagram
Block definition diagram
Internal block diagram
Parametric diagram
Package diagram
Advanced System Analysis
Failure mode and effects analysis sheet (FMEA)
JSD Diagrams
Entity structure diagram
Network diagram
Matrices
CRUD matrix
RACI matrix
RASCI matrix
RACIO matrix
RACI-VS matrix
DACI matrix
Infographics
Infographic diagram
Venn diagram
Tabular Diagram Types
Requirement diagram
Failure mode and effects analysis sheet (FMEA)
Trees and Hierarchical Diagrams
Behavior tree
Hierarchical task analysis
Circular Chart Types
Pie chart
Arrowed cycle chart
Arc chart
Semicircle chart
Arc bar chart
Area Chart Types
Area bar chart
Area chart
Funnel chart
Line chart
Point chart
Line point chart
Area line chart
Area line point chart
Spike chart
3D bar chart
Other Chart Types
Bar chart
Table chart
Spider chart
Tree map chart
Algorithm Modeling Diagrams
Other Diagrams
Archimate
Computer network diagram
Structure chart
CRC card diagram
Entity life history
Robustness diagram
Grafcet
I* star diagram
Finite state machine
Concurrency diagram
Mixed diagram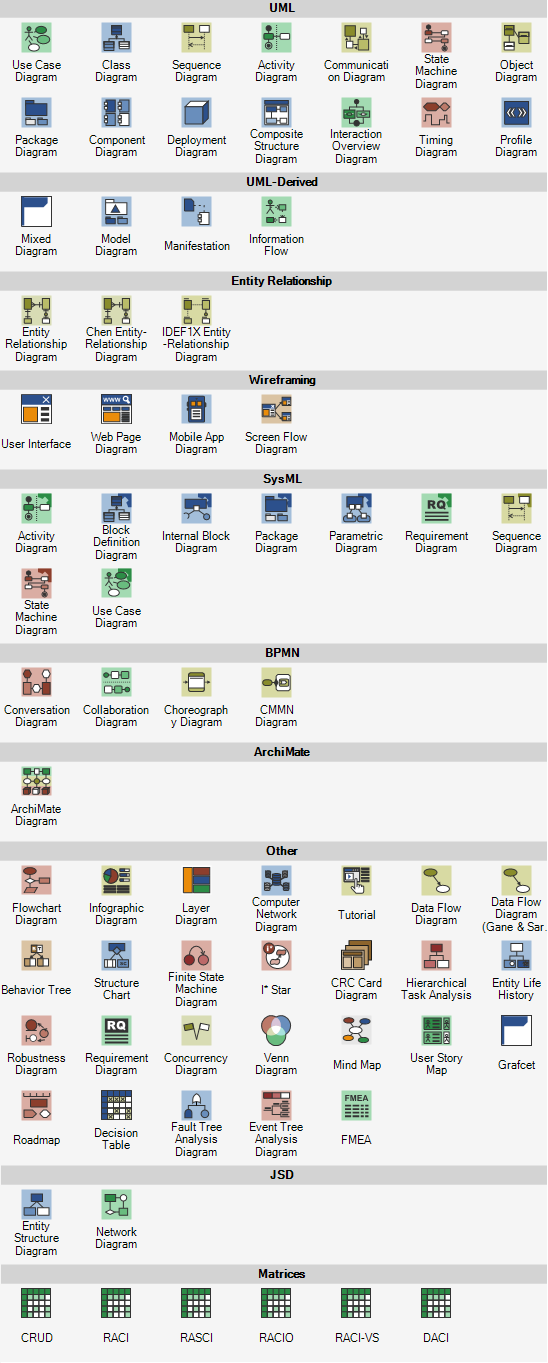 Types of Diagrams