Redefining Visual Modeling with Software Ideas Modeler 14 - New Diagrams, Dynamic Data, AI, DPI per Monitor
News|
25 September 2023
|
Dusan Rodina - softwareideas.net
We are thrilled to introduce the highly anticipated Software Ideas Modeler Version 14, packed with groundbreaking enhancements. This major release unveils a host of new diagram types, catering to a broad spectrum of modeling needs.
Software Ideas Modeler 14 incorporates more than 140 improvements that were designed to accelerate your diagramming and modeling processes, making it faster, easier, and more efficient than ever before. AI-driven capabilities are another highlight, offering text-to-diagram translations, automated documentation, and much more. Complementing these features, the new version also takes a significant leap in user interface advancements, including per-monitor DPI awareness and improved Windows 11 compatibility.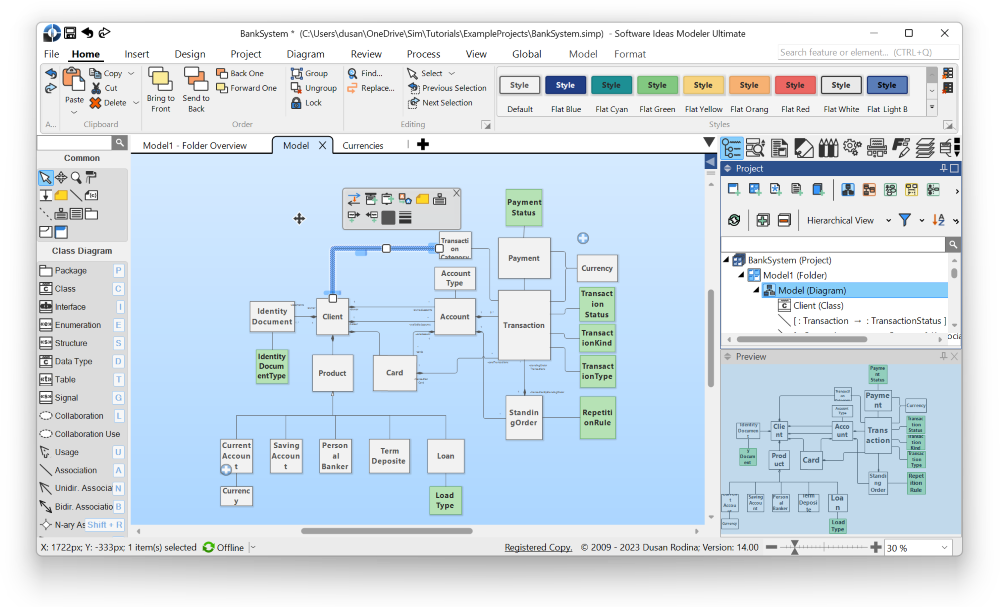 Software Ideas Modeler 14
User Interface and Performance Enhancements
Per Monitor DPI Awareness
The software has improved its DPI awareness for multiple monitors. This functionality is crucial in multi-monitor setups, ensuring a seamless user experience as it automatically adjusts the rendering of individual windows when moved between screens with varying DPI. It guarantees optimum readability and crispness, regardless of the monitor's display properties, and mitigates issues related to blurred or distorted displays.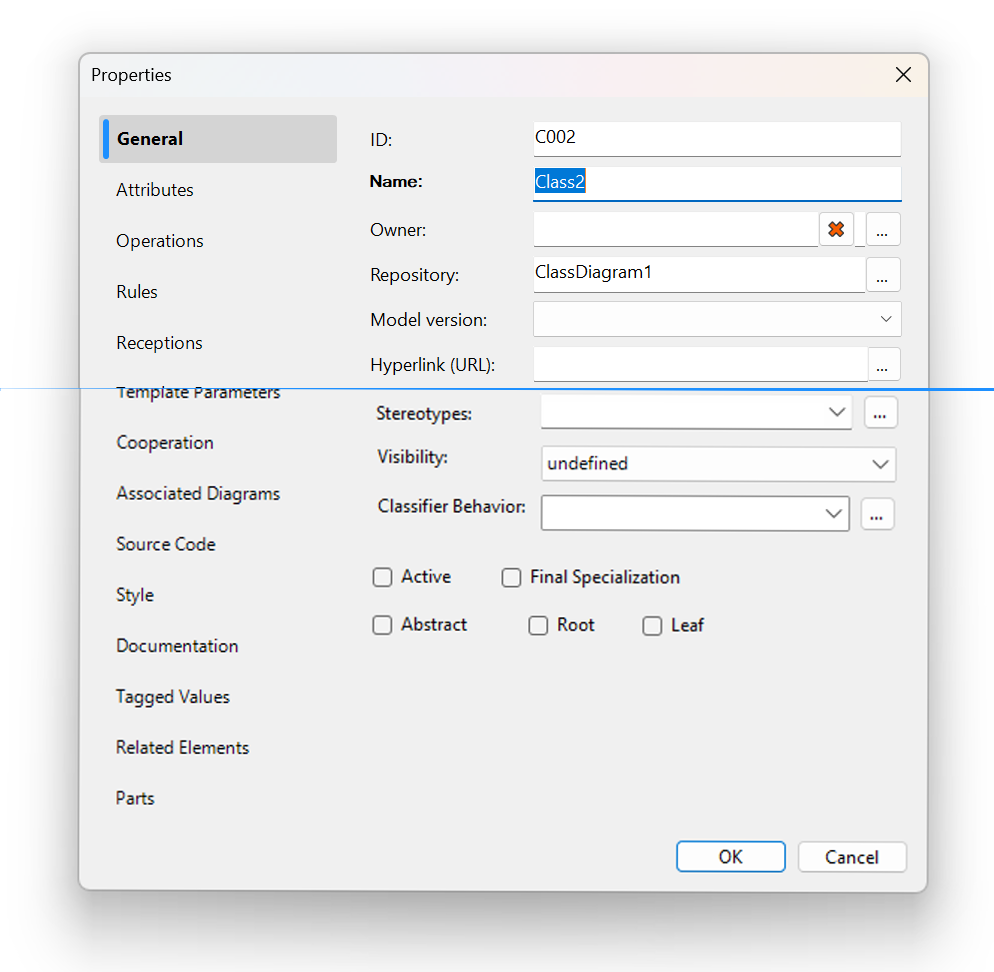 DPI Awareness per Monitor
New Windows 11 Rounded Corners
Staying in tune with modern design elements, version 14 now supports the rounded corners look and feel of Windows 11, making the interface more appealing and cohesive.
Overview Zoom
The new Overview Zoom feature offers a streamlined way to navigate intricate diagrams while zoomed out, cleverly minimizing clutter by hiding extraneous details and enlarging the names of key elements. This function provides an optimal viewing experience for small zoom levels and can be easily toggled on or off directly from the ribbon for user convenience.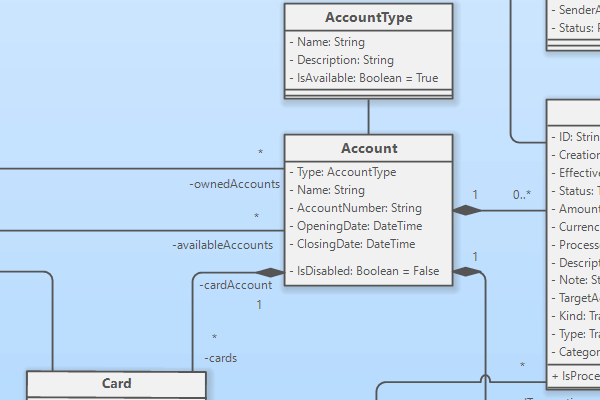 Overview Zoom
Faster Diagram Editor and File Menu
Optimized for performance, the diagram editor now renders more quickly, and the File menu has been expedited for faster access.
New Diagram Types
Timeline Diagram
The newly introduced Timeline Diagram allows users to graphically represent a series of events in chronological order. This feature visualizes time-oriented data along a guiding line, presenting a coherent view of sequences and time-related information.
Using this diagram type, users can add elements representing events, placed on a guiding line, which is easily modifiable to suit the user's needs. There are distinct buttons available in the context bar for adding Major and Minor Events, streamlining the process of building the timeline, and enhancing the user experience. By utilizing these options, users can create detailed and customized timeline diagrams, enabling a more precise and comprehensive depiction of time-related data.
Hierarchical Diagrams
The new version brings forth enhancements in creating hierarchical diagrams, offering refined tools to visualize tree structures more efficiently. The software introduces two new types of hierarchical diagrams:
Hierarchy Diagram - This diagram represents a top-down tree structure, allowing users to visualize hierarchical relationships and dependencies within a system or organization. The clear representation of nodes and connections facilitates understanding of structure and relationship dynamics.
Hierarchical List Diagram - In this diagram type, nested nodes are aligned vertically under each other in branches, allowing for a clear view of subordinations and hierarchies in a listed manner. This form is especially useful for breaking down complex structures into simpler, more manageable parts, providing clarity in intricate scenarios.
To enhance user interaction and ease, an 'Add Sub Block' button is available in the context bar. This addition expedites the process of developing hierarchical structures, enabling users to incorporate sub-blocks swiftly, ensuring a seamless modeling experience.
Other Venn Diagrams
In addition to the traditional Venn Diagrams you've come to expect, Software Ideas Modeler Version 14 introduces an expanded array of specialized Venn Diagrams to fit your diverse data representation needs. Now, you can explore Linear Venn Diagrams for a more straightforward approach to set relationships, or delve into the complexities of Radial Venn Diagrams for multi-layered analysis. These additions offer an enriched visualization landscape, making it easier than ever to showcase overlapping relationships, commonalities, or disparities among multiple sets.
Statistical Charts
The enhancement in Statistical Charts is a notable feature, offering Pie, Line, Bar, and several other charting options to amplify data visualization capabilities significantly. Although these charts were previously available, they were embedded solely within infographics diagrams and not as standalone features. The new release brings charts like Arc, Donut, Funnel, Point, Spider, and TreeMap into individual prominence, thereby allowing an easier approach to statistical analysis and representation. The features of these charts have undergone further improvements, refining user interaction and the overall user experience. Refer to the release notes to explore the detailed improvements related to chart features, such as added labels to various charts, improved rendering, and support for specific styling of individual points and areas for Area Charts.
These charts were added:
Arc Chart
Arc Bar Chart
Area Chart
Bar Chart
Donut Chart
Funnel Chart
Line Chart
Pie Chart
Point Chart
Semicircle Chart
Single Bar Chart
Spider Chart
Table Chart
Tree Map Chart
Other Infographic Diagrams
For individuals requiring specialized illustrative tools, we present an enriched collection of infographic diagrams to cater to diverse needs. Now available are:
Pie Cycle Diagram
Radial Diagram
Cycle Diagram
Pyramid Diagram
Segmented Pyramid Diagram
Pyramid Mosaic Diagram
Bending Process Diagram
New Infographic Diagrams
These newly introduced diagrams are meticulously crafted, offering more nuanced and detailed representation options. Each diagram has been developed to facilitate clear, concise, and engaging visual communication, allowing users to create impactful and compelling presentations of information. These improvements underscore our commitment to delivering diverse and specialized tools that meet the evolving needs of our user base.
Dynamic Data Support
With the recent enhancements in Software Ideas Modeler, users gain more powerful access to dynamic data with the introduction of the Data Sources sidebar. This new feature facilitates the integration of data from diverse sources such as CSV, Fixed-Columns Text, JSON, XML, Regex Text, and Database, allowing users to effortlessly add new data sources and establish data bindings to these sources.
The advanced data binding feature not only transforms and utilizes the acquired data within diagrams and the project model but also provides a versatile range of applications, enabling users to:
Generate diagram elements dynamically,
Create intricate model elements
Populate charts with precise data
Fill entity data
Fill enumeration items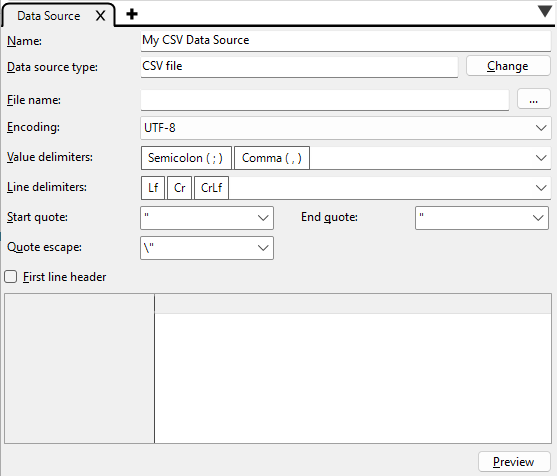 Data Source Definition
Artificial Intelligence Tools
Text and Documentation Generation
Unlock unprecedented design experiences with Software Ideas Modeler, featuring advanced AI tools. These tools, utilizing the OpenAI API, transform text inputs into detailed diagrams and automate content generation for documentation and ERD entities with example data. Please note, these capabilities are not built-in features; instead, the software connects to the OpenAI API. (To use these features, you need to create Open AI API account, the usage of the AI tools is billed by OpenAI, not by us.)
Create Diagram Translations
Introducing a remarkable feature for global teams, the AI tool in Software Ideas Modeler can now translate existing diagrams. It works cohesively with the Alias feature, producing automatically generated "translation aliases" that users can manually edit as needed, ensuring flexibility and precision in communication. This feature is especially invaluable for teams spread across different locations, enabling smooth collaboration and a unified approach to development by overcoming language barriers.
Documentation and Project Management
Documentation Themes
The addition of Documentation Themes further enriches the flexibility and customization of documentation in Software Ideas Modeler. Users can now select from a variety of themes, each defining distinctive styles for paragraphs, texts, and tables. This feature ensures a consistent and cohesive visual presentation in the documentation. A theme can be chosen in the Documentation Generation dialog and it applies to the selected documentation template, to better meet the specific needs and preferences of the user.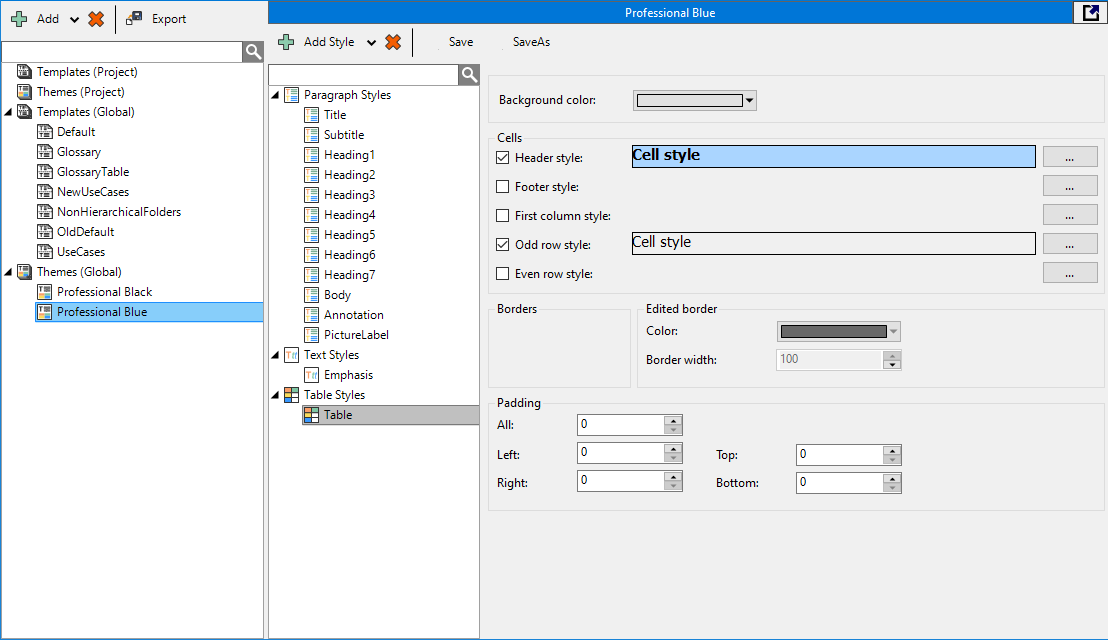 Documentation Themes
Named Glossaries
The enhancement of supporting multiple Named Glossaries within a single project in Software Ideas Modeler allows for a more organized and efficient documentation process. This feature facilitates the management of different sets of terminologies or definitions, enabling users to maintain clarity and consistency in language use throughout various sections or aspects of a project. The availability of multiple glossaries aids in addressing the diverse needs of extensive and multifaceted projects, ensuring accurate and coherent communication of concepts and information.
Layout and Styling Features
Container Layouts for Advanced Customization
The latest enhancements in Software Ideas Modeler introduce an array of sophisticated container layouts such as Linear, Circular, Radial, Bezier, Pyramid, Tree, and Venn, providing unparalleled customization for your diagrams. These intricate layouts pave the way for designing diagrams with ease and precision, catering to diverse visualization needs.
Additionally, the Flow container layout has been enriched with alternate flow direction options including left-to-right/right-to-left, top-to-bottom/bottom-to-top, and vertical/horizontal settings, offering greater flexibility in diagram creation. The new Stack container layout setting ensures optimal element fitting within the diagrams, allowing for a streamlined and organized representation of information.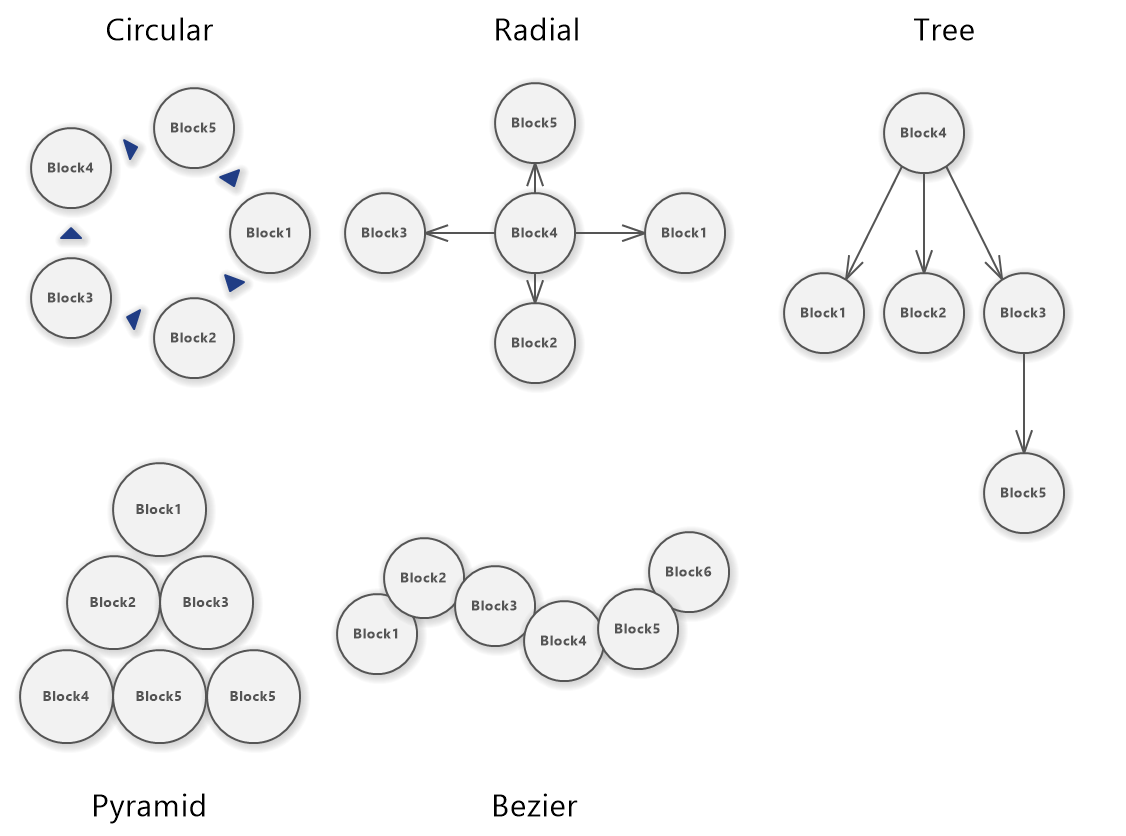 Container Layouts
Text and Background Styles
The introduction of new styles like 'Fit Text to Bounds' and 'Texture Background' further allows you to personalize your diagrams.
When the 'Fit Text to Bounds' feature is activated, it automatically adjusts the size of the text so that it neatly fits within the designated boundaries or the enclosing shape, preventing overflow or truncation. This ensures that the content remains visible, legible, and well-organized, regardless of the dimensions of the bounding box or shape.
Style by Owner and Alternate Styles
These options give you more control over the styling of diagram elements based on their ownership or alternate conditions.
Advanced Use Case Analysis
The Use Case Analysis feature is now more robust, with the addition of flow event sections like Extensions, Technology and Data Variations, and Special Requirements.
Miscellaneous Additions
From adding support for mouse navigation buttons in the diagram editor to improved rendering of Arrowed Arc and Double Arrowed Arc, there are countless other minor but crucial improvements and additions.
Release Notes
New Features and Improvements
Per monitor DPI awareness
New Windows 11 rounded corners look and feel
New diagram: Timeline Diagram
New diagram: Pie Cycle Diagram
New diagram: Radial Diagram
New diagram: Cycle Diagram
New diagram: Pyramid Diagram
New diagram: Segmented Pyramid Diagram
New diagram: Pyramid Mosaic Diagram
New diagram: Bending Process Diagram
New diagram: Hierarchy Diagram
New diagram: Hierarchical List Diagram
New diagram: Arc Chart
New diagram: Arc Bar Chart
New diagram: Area Chart
New diagram: Bar Chart
New diagram: Donut Chart
New diagram: Funnel Chart
New diagram: Line Chart
New diagram: Pie Chart
New diagram: Point Chart
New diagram: Semicircle Chart
New diagram: Single Bar Chart
New diagram: Spider Chart
New diagram: Table Chart
New diagram: Tree Map Chart
New diagram: Linear Venn Diagram
New diagram: Radial Venn Diagram
New diagram: Nested Blocks Diagram
New AI tool: Diagram from any text generation
New AI tool: Documentation content generation
New AI tool: Example data generation for ERD entities
New AI tool: Create diagram translation
Overview zoom
New diagram icons
Added documentation themes
Added support for multiple named glossaries per project
Added new drawing tool: Block Connector
Faster diagram editor rendering
Faster File menu opening
Added a new Action group with Undo and Redo buttons to the ribbon
Added support for rounded corner style to more shapes and elements
Package can show owned elements as the list of their name in the element body
Added new style: Fit Text to Bounds
Added new style: Texture Background
Improved related elements tab - allows to expand to related elements of related elements
Improved diagram editor splitting
Added distinct styles for missing on left and on right in the Comparison results
Supported changing type for multiple selected associations at once
Added zoom support for documents
Added new Linear container layout
Added new Circular container layout
Added new Radial container layout
Added new Bezier container layout
Added new Pyramid container layout
Added new Tree container layout
Added new Venn container layout
New Flow container layout option - alternate flow direction
New Flow container layout direction options - left-to-right/right-to-left, top-to-bottom/bottom-to-top and vertical/horizontal
The rotation center can be changed
Added new style options - Style by owner and Alternate style by owner
New Stack container layout setting: Fit all elements
Added information about relationship multiplicities to the project tree
Added support for mouse navigation buttons to the diagram editor for navigating between previous selections in the diagram
Added support for horizontal scroll using the horizontal mouse wheel
Improved Arrowed Arc and Double Arrowed Arc rendering
Added labels to Pie Chart, Bar Chart, Tree Map Chart and Spider Chart
Cancellation of field selection after pressing ESC
Added background/border/shadow style to Spider chart
Added point rendering in Spider chart
Added support for specific styling of individual points and areas for Area Charts
Added support for padding style to Area charts
Added support for rounding style to Bar chart
Improved positioning for adding points
New Org Chart is created with a tree container
Added Tree Container tool to the toolbox for Org Chart
Improved Advanced Use Case Analysis

Added Extensions (flow event section)
Added Technology and Data Variations (flow event section)
Added Special Requirements
Added Open Issues
Added information about the number of event flows to the tab
Vertical tabs

Added support for dynamic data via various data sources (CSV, Fixed-Columns Text, JSON, XML, Regex Text, Database)

New Data Sources sidebar
Create diagram elements
Create model elements
Fill chart data
Fill entity data
Fill enumeration items

Maximum value or sum can be used as a base for bars in the Arc Bar Chart
Added context menu to Field Browser grid
Added field filters to diagram editor (for filtering attributes, operations, etc.)
Added support for field brace initialization to C+- source code parsing
Added multiple offered positions for border elements when using the Smart Keys feature
Formatted text editor (e.g. in the Documentation tab in the Properties dialog) offers Subscript and Superscript formatting options in the toolbar
Improved Use Cases template
Improved user interface of documentation template management window
Improved text rendering for default anti-aliasing setting
Added new template commands for Use Case: MainSuccessScenario, Extensions, SpecialRequirements, TechAndDataVariations, OpenIssues
Added a new template command for element - ElementTypeName
Behavior elements can be assigned to UML State Actions
Events can be assigned to triggers in UML Transitions
New UML Trigger and UML Event elements - transition triggers are created as separate model elements
Added ID field to Use Case Definition form
Paste requirements from text in the requirements editor
Optimized rendering of ERD entities with a lot of data rows
Added Kind attribute to UML Transition
Added triggers to UML Accept Event Action
UML Transition Behavior Expression attribute changed to Effect and allows to associate a behavior as a reference as well as text expression
Added highlight for input and output connectors for selected elements in the diagram editor
UML Signal can be dropped to UML Send Signal Action, Transition, and Accept Event Action to set the signal to them
Added option to set the referenced chart for Chart Legend using drag&drop
Added new parameter to MS SQL Server Database selection: Trust Server Certificate
Added ODBC support for the database import
Added new element tools to the Activity Diagram toolbox: Input Pin, Output Pin, Value Pin, Central Buffer Node, Data Store Node
Added new properties to UML Object Flow: IsMulticast, IsMultireceive, Selection, Transformation
Displaying Default Value for Activity Parameter Node
Displaying Activity Parameter Node inside the box
Displaying {stream} tag for Stream Parameters and triangle icon for Exception Parameters
Export diagram to image using diagram name as the default file name
Fixed Bugs
Fixed text rendering (align to baseline)
Fixed exporting documents to PDF
Fixed adding links to project entities using documentation editor using autocomplete initiated by typing @
Fixed updating dynamic data in documentation
Fixed resizing toolbox when placed on the right
Fixed YAML parser
Fixed stack overflow issue in the project comparison
Fixed selecting fields with control pressed in the diagram editor
Fixed wrong container layout after collapsing and expanding the container
Fixed layout for generated hierarchy diagram with multi-level perpendicular branches
Fixed showing diagram thumbnails for lazy-loaded tabs in the tab switch
Fixed adding and editing template parameters, attributes, and operations from the quick action box
Fixed showing Properties dialog for the selected diagram in the Folder Overview window
Fixed Add Alternate Style option in the Style sidebar
Fixed showing shortcut keys for small elements when using the Smart Keys feature
Fixed canceling multi-element selection when right-clicking on a container
Fixed text highlighting in rotated elements
Fixed Edit Comment action in the context menu in the comment panel (Cooperation tab)
Fixed application crash when trying to edit a column in the Columns dialog (Element Browser) and no column is selected
Fixed copying and pasting container to an exact position (using the context menu) [RQ#1727]
Fixed moving grouped container [RQ#1727]
Fixed HOME and END keys inside a table cell in the formatted text editor
Fixed editing Table borders in the formatted text editor
Fixed importing generalization from XMI
Fixed refreshing layout after undoing label move
Fixed duplicating stereotypes for instance specification elements
Fixed generating indexes script for MS SQL DDL [RQ#2728]
Fixed application crash when selecting multiple rows in the grid (using SHIFT pressed) and moving the cursor outside the grid area
Downloads