Hospital Management System (UML Diagrams)
The example project models a hospital management system using UML use case, class and sequence diagrams.
UML Use Case Diagram
The use case diagram for the hospital management system shows the actors:
and their defined use cases:
Doctor

Visit the patient
Examine the patient

Add diagnoses
Prescribe drugs
Schedule the medical procedure

Discharge the patient
Report the patient condition

Patient

Register
Unregister
Apply for discharge
Confirm the medical procedure
Hospital Management System - Use Cases
UML Class Diagram for Hospital Management System
The class diagram depicts the classes, an association class, and enumerations that are used within the modeled hospital management system.
Classes:
Nurse
Employee
Doctor
Patient
Technical Staff
Receptionist
Diagnosis
Diagnosis Type
Schedule
Schedule Time
Action
Allowed Actions
Specialization
Symptom
Room
Request Form
Patient History
Administered Drug
Drug
An association class:
Enumerations:
Occurrence
Patient Status
Action Type
Request Type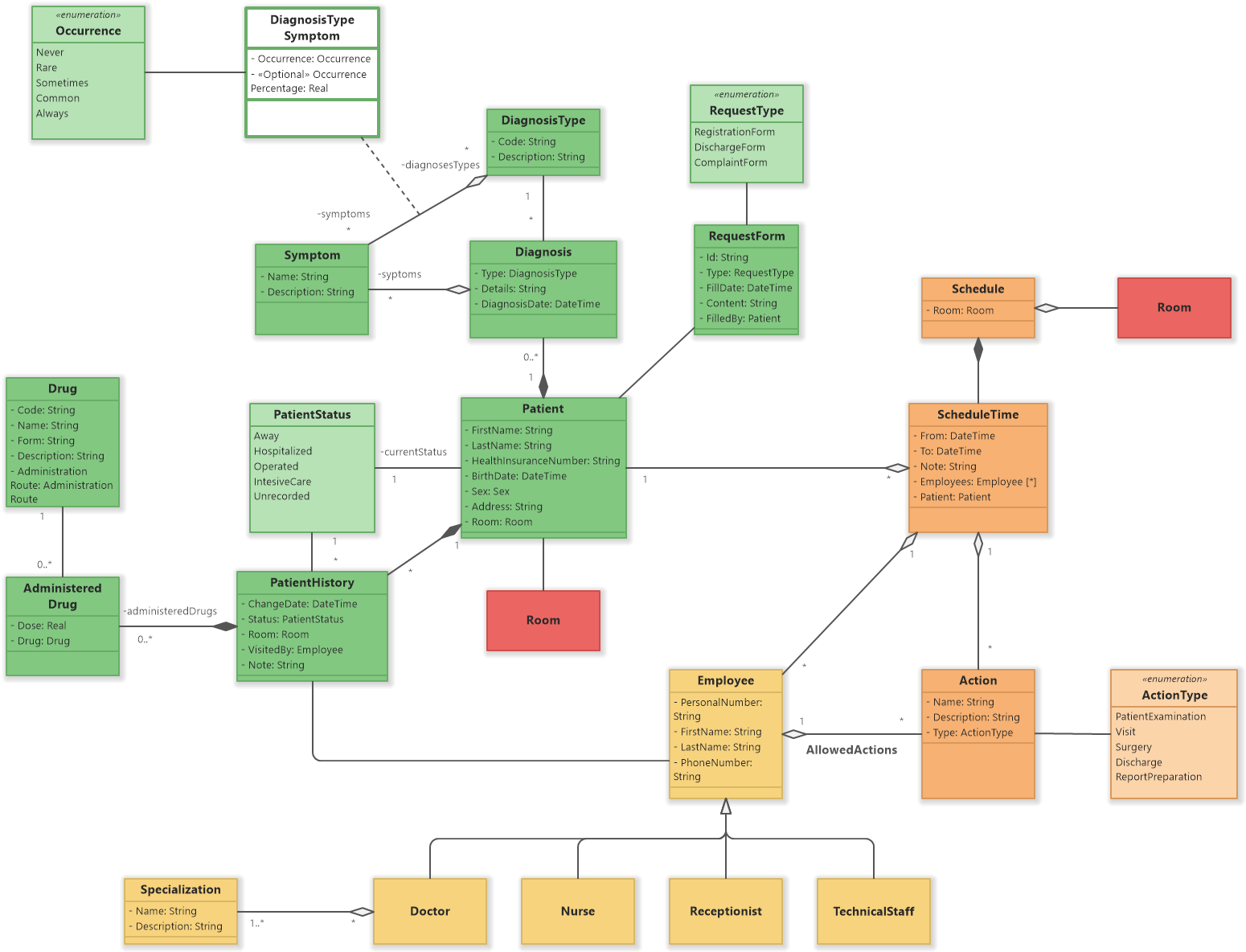 Hospital Management System - Core Data Model
UML Class Diagram of Hospital Rooms
The diagram describes a class hierarchy of hospital rooms and other associated classes.
These classes are defined in the diagram: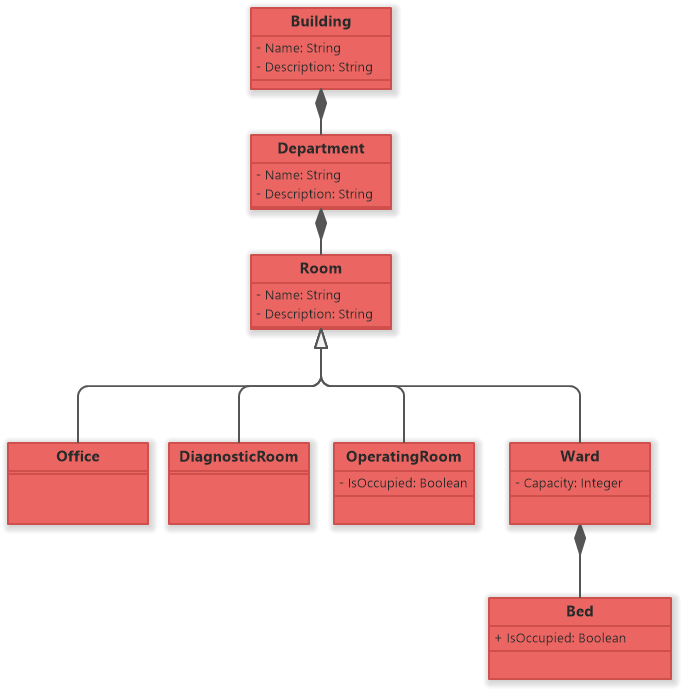 Hospital Management System - Rooms
UML Sequence Diagram of Doctor's Visit
The UML sequence diagram example shows a doctor's visit and a check of a patient.
The diagram depicts these lifelines:
Doctor
Patient
Hospital System
The following messages occur between the lifelines:
Confirm visit
Check schedule
Patient visit planned
Check the patient condition
Report patient condition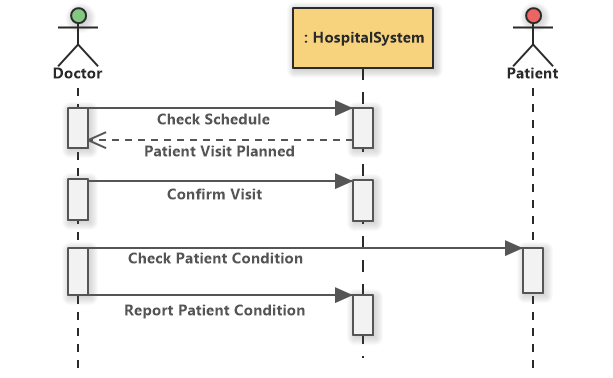 Hospital Management System - Doctor's Visit (UML Sequence Diagram)
UML Sequence Diagram of Patient Examination
The sequence diagram shows a patient examination by a doctor.
There are these lifelines:
Doctor
Patient
Hospital System
The lifelines communicate with the following messages:
Start the examination
Add symptom
Show recommended diagnoses
Add the diagnosis
Prescribe the needed drug
Show found contraindications
Propose the medical procedure
Confirm the medical procedure
Show possible dates
Choose a date
Confirm the schedule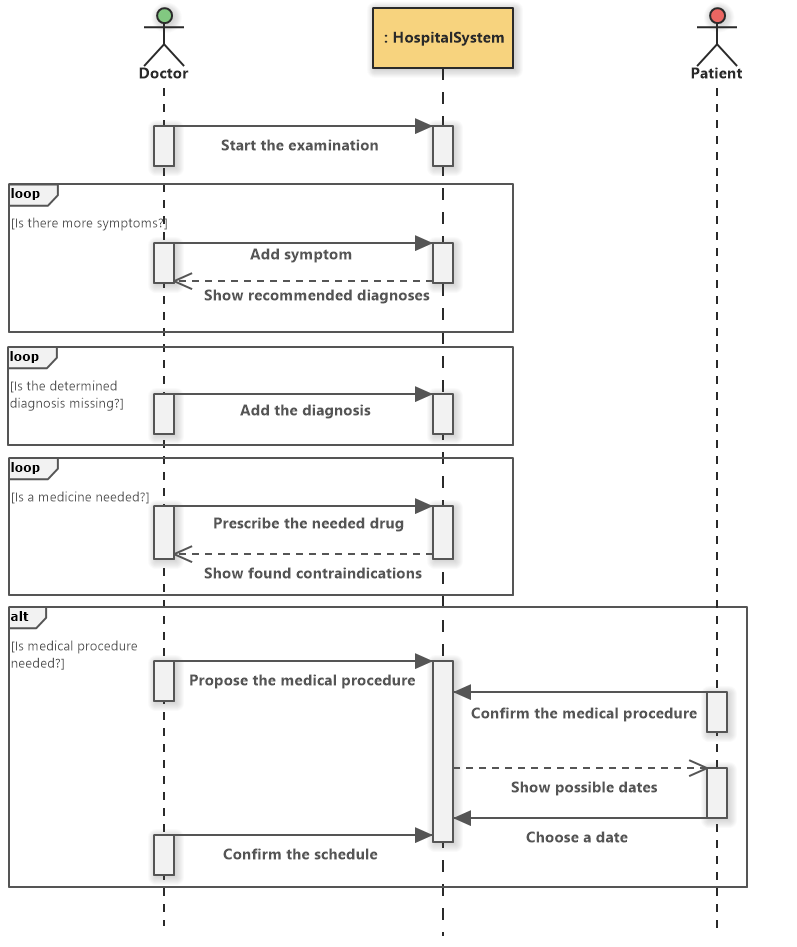 Hospital Management System - Patient Examination (UML Sequence Diagram)
Download UML Diagrams Project for Hospital Management System
Download the example project here:
Hospital Management System (UML Diagrams)