C# UML Diagram Tool
Software Ideas Modeler is a diagramming and modeling tool with C# support. You can reverse engineer your C# code to diagrams, edit the diagrams, and generate C# source code. The UML software supports C# data types and various code templates. You can draw any of UML diagrams - the standard in version 2.5 is supported.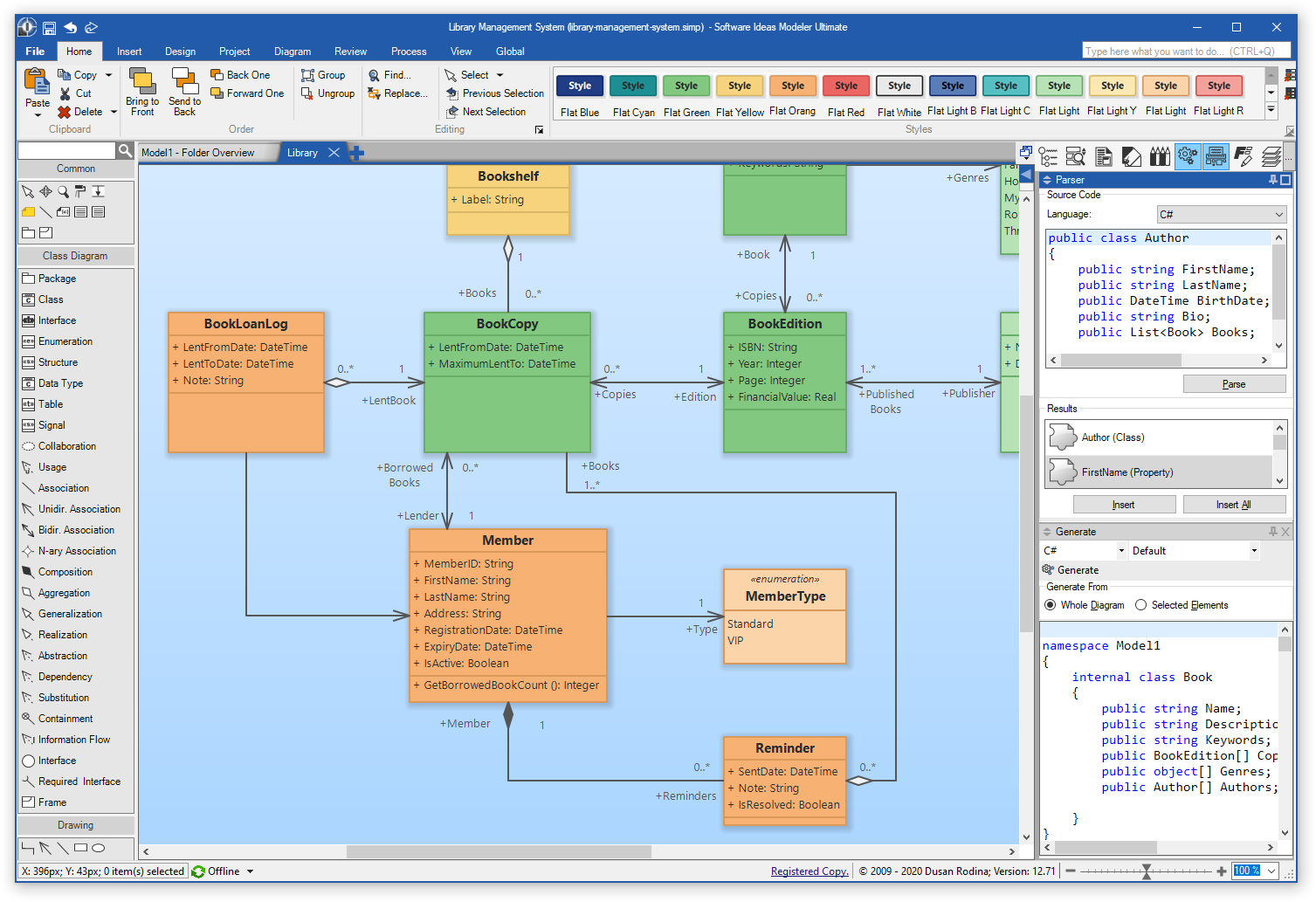 C# UML Diagram Tool Window
C# Diagramming Software
Software Ideas Modeler allows you to draw various types of UML diagrams for your C# projects. You can use C# data types in your diagrams. Our diagramming tool supports all structure UML diagrams as well as behavior diagrams.
C# Reverse Engineering
You can generate UML diagrams from C# solutions, projects, or individual source code files. You can also import the diagrams from .NET assemblies. Reverse engineering feature allows you to create UML class diagrams and UML package diagrams automatically.
Generate C# Source Code
Source code generation tools of Software Ideas Modeler helps you to build source code scaffolds and source code parts based on your diagrams. Using the built-in template language you can create your own templates and generate any code from your diagrams.
C# Syntax Modeled in UML
Using Software Ideas Modeler, you can model various elements of C# language. A class with a constructor, private, protected, internal and public fields and methods, and read-only field with a default value can be modeled in UML as: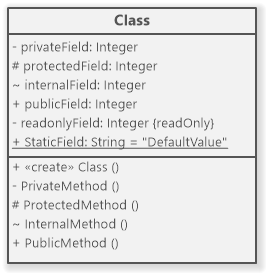 C# Class in UML
The UML class is equivalent of this C# code:

internal class Class
{
    private int privateField;                
    protected int protectedField;                
    internal int internalField;                
    public int publicField;                
    private readonly int readonlyField;                
    public static string StaticField = "DefaultValue";                
    public Class ()            
    {        
    }                
    private void PrivateMethod ()
    {        
    }                    
    protected void ProtectedMethod ()
    {        
    }                    
    internal void InternalMethod ()
    {        
    }                    
    public void PublicMethod ()
    {        
    }                    
}

Other Programming Languages Support
Software Ideas Modeler also supports other programming languages:
JavaScript
Object Pascal
PHP
Ruby